The Jean Augustine Chair in Education in the New Urban Environment is an endowed Chair established by the Honourable Jean Augustine, the first black woman elected to the Parliament of Canada.
The Honourable Jean Augustine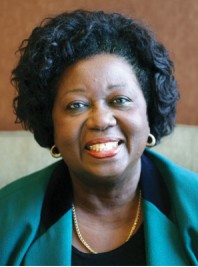 In 1993, Canadian politician Jean Augustine became the first black woman elected to the Parliament of Canada. She has served on numerous boards including the Board of Governors of York University, the Board of Trustees for The Hospital for Sick Children and as National President of the Congress of Black Women of Canada. An energetic advocate of social justice, Augustine was an elementary school principal before entering federal politics. She was the Parliamentary Secretary to the Prime Minister of Canada, Chair of the National Liberal Women's Caucus, Secretary of State for Multiculturalism and the Status of Women, and Assistant Deputy Speaker. She holds an Honorary Doctor of Laws (LLD) from the University of Toronto. In 2007, Augustine was honoured by the University of the West Indies with a Caribbean Luminary Award, recognizing her significant contributions to the Caribbean diaspora, and was appointed Ontario's first Fairness Commissioner to advocate for foreign- trained professionals, to ensure the credentials of internationally – trained professionals are treated fairly. As a result of two motions Augustine initiated, February was declared nationally as Black History Month and the Famous Five Statue received a home on Parliament Hill, giving recognition to the contributions of women and blacks in Canada.
Jean Augustine's Legacy at York University
Jean Augustine has made a special gift of historically significant items to York University including her parliamentary chair, robes and portrait from the House of Commons, photos, commemorative items and gifts. Augustine has also donated a collection of papers documenting her time as an elected representative, which will be archived in order to allow students and scholars access for research purposes. These gifts highlight Jean Augustine's contributions to Canada, and will inspire others to aim high and contribute. They illustrate the power of human will, engagement and education. York University will display this collection with pride. View some samples from this important collection.